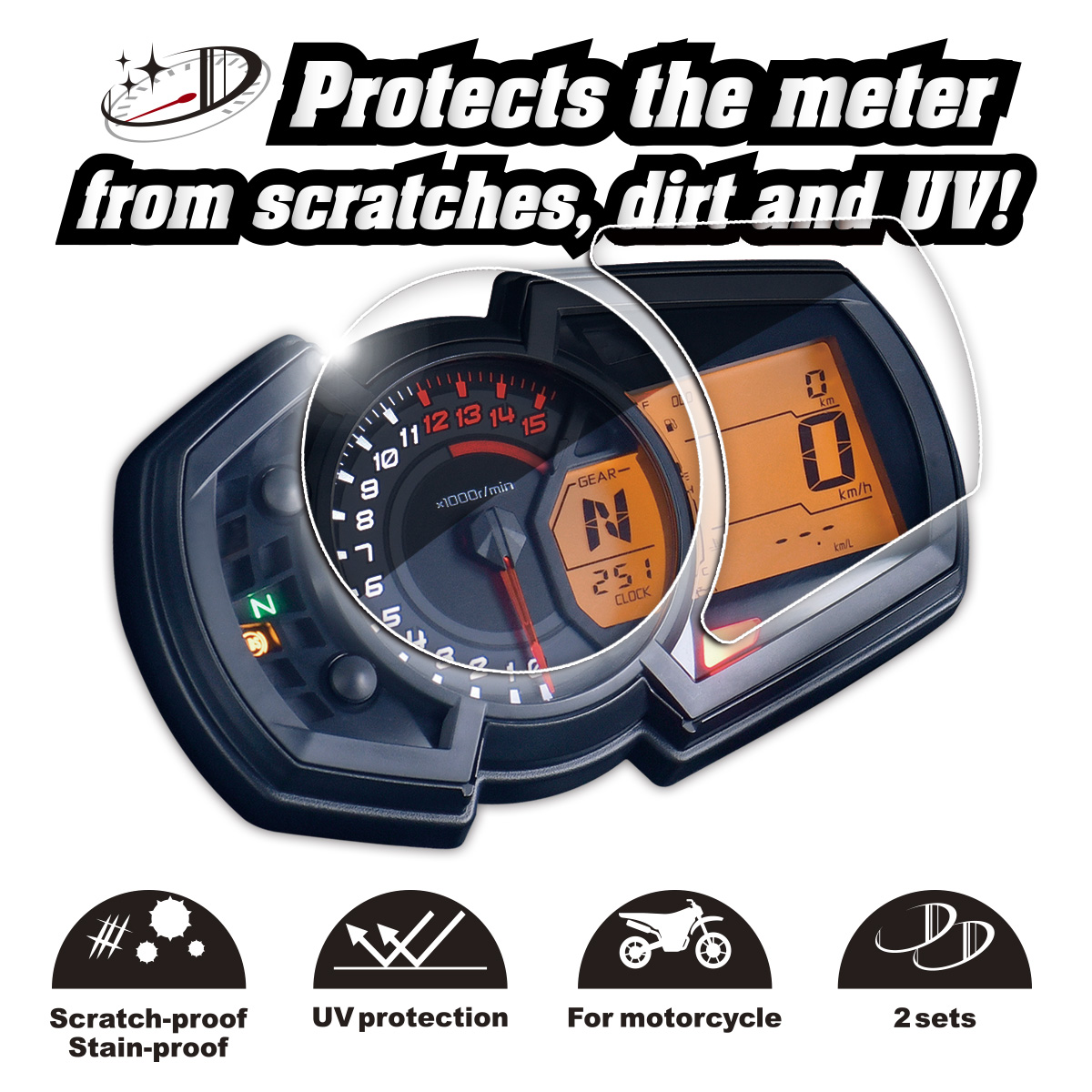 METER SCREEN PROTECTIVE FILM
SPECIFICATIONS:
- Meter Screen Protective Film provides strong protection.
- A film for just fit cut into a meter shape (1 mm clearance around the meter)
- Compatible with CRF1100L touch panel.
- Two types of materials, PET and TPU.
- PET clear hard type for flat meter shape.
- Clear soft type for curved and three-dimensional shapes.
- When the film is removed, no marks are left.
- 2 sheets per set.
| | |
| --- | --- |
| | |
Bike
Year
Parts number
Material
HONDA
CC110
18-21
D50-11-000
TPU
MONKEY125
19-22
D50-11-001
TPU
CT125
20-22
D50-11-001
TPU
TRAIL125
21-22
D50-11-001
TPU
DAX125
22
D50-11-001
TPU
GROM
14-20
D50-11-002
TPU
GROM
21-23
D50-11-006
PET
CB125R
18-21
D50-11-005
PET
ADV150
20
D50-11-007
PET
CRF250L/M
17-20
D50-11-002
TPU
CRF250L
21-23
D50-11-006
PET
CRF250L(S)
21-23
D50-11-006
PET
CRF300L
21-22
D50-11-006
PET
CRF250RALLY
17-20
D50-11-002
TPU
CRF250RALLY
21-23
D50-11-006
PET
CRF250RALLY(S)
21-23
D50-11-006
PET
CRF300L RALLY
21-22
D50-11-006
PET
CB250R
18-20
D50-11-005
PET
CBR250RR
17-22
D50-11-008
PET
REBEL250
17-19
D50-11-009
PET
REBEL250
20-22
D50-11-010
PET
CB300R
18-20
D50-11-005
PET
GB350
21
D50-11-016
PET
GB350 S
21
D50-11-016
PET
CB400F
13-18
D50-11-002
TPU
CBR400R
13-18
D50-11-002
TPU
CBR400R
19-21
D50-11-011
PET
400X
13-18
D50-11-002
TPU
400X
19-20
D50-11-011
PET
CB400 SUPER FOUR
18-20
D50-11-012
PET
CB400 SUPER BOL D'OR
18-20
D50-11-012
PET
CRF450L
19-20
D50-11-003
PET
CRF450RL
21-23
D50-11-003
PET
REBEL500
17-19
D50-11-009
PET
REBEL500
20
D50-11-010
PET
CB500X
13-18
D50-11-002
TPU
CB500F
13-18
D50-11-002
TPU
CB650R
19-21
D50-11-011
PET
CBR650R
19-21
D50-11-011
PET
NC750X
21
D50-11-013
PET
X-ADV
21
D50-11-015
PET
CB1000R
21
D50-11-015
PET
CRF1100L * Touch panel compatible. Set of touch panel and indicator
panel.
20-22
D50-11-004
PET
REBEL1100
21
D50-11-017
PET
CB1100/RS/EX
17-20
D50-11-014
PET
NT1100
22
D50-11-004
PET
HAWK 11
22
D50-11-017
PET
CB1300  SUPER FOUR
16-21
D50-11-012
PET
CB1300   SUPER BOL D'OR
16-21
D50-11-012
PET
KAWASAKI
Z125PRO
19-22
D50-11-105
TPU
KLX230
20-22
D50-11-100
PET
VERSYS-250X/300X 
17-20
D50-11-101
TPU
ZX-25R/SE
21-22
D50-11-101
TPU
NINJA250
18-22
D50-11-101
TPU
Z250
19-22
D50-11-106
TPU
NINJA400
18-22
D50-11-101
TPU
Z400
19-22
D50-11-106
TPU
NINJA650
17-19
D50-11-101
TPU
NINJA650
20-22
D50-11-104
PET
ZX-6R
19-22
D50-11-101
TPU
Z650
20-22
D50-11-104
PET
W800/STREET/CAFÉ
15-22
D50-11-102
PET
MEGURO K3
21-22
D50-11-102
PET
Z900
20-22
D50-11-104
PET
Z900RS/CAFE
18-22
D50-11-103
PET
NINJA ZX-10R
21-22
D50-11-104
PET
NINJA ZX-10RR
21
D50-11-104
PET
NINJA1000
17-19
D50-11-101
TPU
NINJA1000SX
20-22
D50-11-104
PET
Z H2
20-22
D50-11-104
PET
SUZUKI
V-STROM 250
17-21
D50-11-200
PET
GSX250R
17-20
D50-11-200
PET
SV650/X
17-21
D50-11-201
PET
V-STROM 650/XT
17-19
D50-11-202
PET
GSX-S750
18-21
D50-11-201
PET
GSX-S1000
17-20
D50-11-201
PET
GSX-S1000
22
D50-11-204
PET
GSX-S1000F
19-20
D50-11-201
PET
V-STROM 1000
18-19
D50-11-202
PET
V-STROM 1050/XT
20-21
D50-11-203
PET
GSX-R1000R
17-22
D50-11-204
PET
KATANA
19-20
D50-11-204
PET
YAMAHA
SEROW250 
05-20
D50-11-300
PET
YZF-R25
19-21
D50-11-302
PET
MT-25
20-21
D50-11-302
PET
MT-03
20-22
D50-11-302
PET
SR400
00-21
D50-11-305
TPU
XSR700
18-21
D50-11-303
PET
XSR900
18-21
D50-11-303
PET
TENERE700
20-22
D50-11-301
PET
NIKEN/GT
18-20
D50-11-304
PET
MT-10
17-21
D50-11-304
PET
FZ-10
17
D50-11-304
PET
KTM
690 ENDURO R
19-20
D50-11-400
PET
690 SMC R
19-20
D50-11-400
PET
790 ADVENTURE/R/RALLY
19-22
D50-11-401
PET
890 ADVENTURE R
22
D50-11-401
PET
125DUKE
17-22
D50-11-401
PET
390DUKE
17-22
D50-11-401
PET
390 ADVENTURE
20-22
D50-11-401
PET
HUSQVARNA
701ENDURO/LR
16-20
D50-11-400
PET
701SUPERMOTO
16-20
D50-11-400
PET